Bard family honors family member with NICU cameras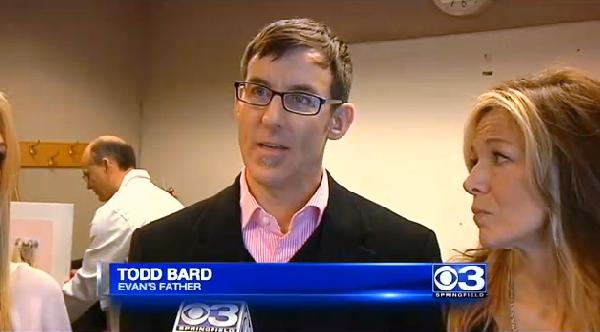 An Agawam family that lost a loved one in a drunk driving crash is making sure her memory lives on and they are doing so by focusing on one of her passions.

Twenty-year-old Evan Bard died in the crash last May.

Bard was a nursing student at Curry College in Milton, and she had just wrapped up a semester of straight A's.

Her family said she was very passionate about Neonatal Intensive Care Units (NICU).

"We wanted to honor her and all of the hard work that she's gone through in her life," said Todd Bard, Evan's father.

To do just that, the Bard family created the Evvgirl Foundation.

Following a meeting with a family friend, the organization began raising money for NICVIEW cameras.

The bed side technology broadcasts an image of a family's newest member for several hours at a time.

"It's not a replacement for being here in person, but if dad's on a trip, he can log on anywhere, just pull up the smart phone and watch his little son or daughter," said Bard.

"I got a call at 4:11 a.m. saying get here right now," said Chris Mollins.

A little over an hour later, Mollins and his wife Wendy were new parents.

The South Hadley couple welcomed Caleb into the world at just 28-weeks, which automatically put the newborn in the NICU.

"The lungs haven't developed, the digestive system hasn't developed yet," said Mollins. "The nervous system is still developing. So, all of these things that normally happen in the womb, they've got to still happen."

The NICVIEW cameras allow the Mollins family to keep a closer eye on that development. The camera for Caleb's bed was installed the very first day he was in the NICU.

"We can check on him in the evening," said Wendy Mollins. "Caleb's grandfather looks at him right before he goes to bed at night. It's really great to be able to see him even though we're not here."

The Bard family said the cameras, and the Evvgirl Foundation, will allow Evan to always be associated with her passion.

"She loved kids," said Leisl Bard, Evan's sister. "She babysat for everyone around Agawam and Western Mass. For us, being involved in this, even when we grow older, we'll be doing something for her."

Each camera costs about $2,000.

The Bard's said the goal is to raise enough money to put cameras at every NICU bed, not just at Baystate Children's Hospital, but across New England.

To support the NICVIEW Program, people can contact the EvvGirl Foundation at 413-883-2031.